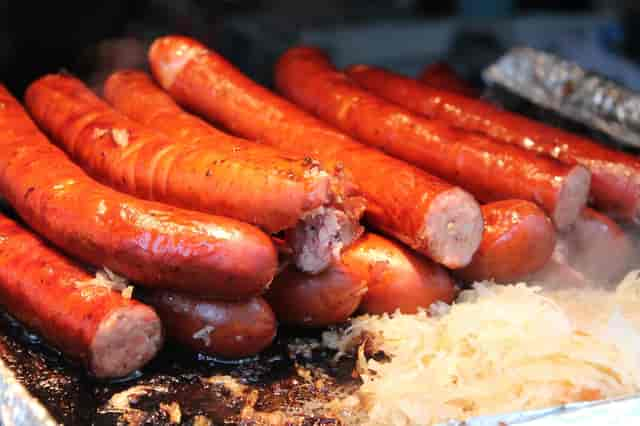 Reviews
See what our customers have to say!
Oula H. via Yelp
"This place came as a complete surprise, I personally do not eat meat and I do not really care for most veggie dogs, but I have to say I was shocked by how delicious this place was. 

My sister had suggested we try this place after the restaurant we wanted to go to closed - side note if you want to explore solvang do it early, because everything closes around 6 p.m. - I was hesitant about a sausage garden but after seeing the menu I wanted to give it a try. 

*disclaimer my inner fat kid is about to come out!!!

The food here was oh my gosh amazing, especially from the perspective of a vegetarian. 
The veggie dogs they make are eggplant based so it does not feel heavy or crumbly like it was made with wheat or tofu. 

The veggie sausage I got was a chipotle sausage and it had such an amazing smoky flavor. I added sauerkraut pickles and spicy mustard to it. 

The flavor of the chipotles really came through so there was a subtle heat to the sausage.

The bun it came in was big enough to fill with a lot of toppings and it was a solid roll that didn't fall apart when you ate the sausage and it did not get soggy. 

We also got a Bavarian which was (insert Oprah voice) Ah-may-zing! It was served on a board and it was glazed with butter. It came with a cheese dip that tasted like Brie and butter. 

There were so many condiment options and sausage options and vegan sausage options. 

This place is 100% worth a visit. It is outside so it can be chilly but they have space heaters outside. The crew that works here is super friendly and informative they helped answer questions we had. 
The place is kind of hidden In an alley way, but if you are in the area you have to make a stop you seriously will not regret it!"
Maricel J. via Yelp
"Must go to when in Solvang. Get the sampler and taste four of their sausages with their huge selections of dipping sauce. Also make sure you get their fresh giant pretzel, so good especially with its cheese dipping sauce. My fave sausage would have to be the chicken apple and the kielbasa sausage, both were delicious. The staff were very friendly and helpful with the choices of sausages and their top dipping sauce."
Michael M. via Google
"Great sausage selections, good beer options and flights. Great atmosphere on a nice day with big picnic tables. Definitely try the mustards and sauerkraut!"
Livid H. via Google
"Delicious food. Delicious beer. Honestly what more can you ask for? They also have vegan options."
Sara B.
"My Husband, Family and I absolutely love this place! We've been coming here for a few years and always enjoy their amazing service, food, and atmosphere. We always try something new and are never disappointed. Sausages come out hot and perfectly grilled, beers are always iced cold and delicious!!
You HAVE to try their pretzel cheese!!!!"